10 Days of Marriage Proposal Inspiration
on

Oct 10, 2014 2:48 PM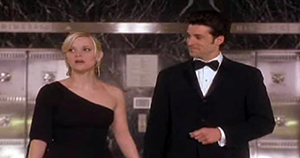 You remember the classic proposal scenes from television and the movies. You've seen the latest viral marriage proposal sensation. Now relive your favorites with our proposal inspiration celebration!
Will your favorite make the list?
No. 1 - Proposal Parade: "Hey baby! I think I wanna marry you!"
No. 2 - Matt & Ginny: Making the movies jealous
No. 3 - Friends: "There's a reason why girls don't do this!"
No. 4 - Grey's Anatomy: Elevator Love Letter
No. 5 - Somebody Loves You: "If I am good to you ... Won't you be good to me?"
No. 6 - Sweet Home Alabama: "Pick one."
No. 7 - The Proposal: "Marry me ... because I'd like to date you."
No. 8 - Guy Falls Off Building: Head over heels in love
No. 9 - Downton Abbey: "Will you do me the honor of becoming my wife?"
No. 10 - When Harry Met Sally: "I love that you get cold when it's 71 degrees out."