Behind-the-Scenes of The Perfect Proposal, Chicago
on

Dec 15, 2014 2:52 PM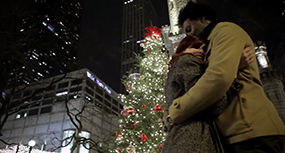 In The Perfect Proposal Contest, one lucky couple is awarded the opportunity to create their perfect proposal, from the ring all the way through the engagement party.
After sharing their love story, participants choose one each of three rings, three proposal locations, and three charities (to which Jewelers Mutual provides a $1,000 donation).
Our first stop was Chicago, and we have a behind-the-scenes look at exactly what went down!
The Timeline
October 22: Jared, a contest participant from Chicago, saw a Facebook ad for The Perfect Proposal Contest, entered, and crossed his fingers.
Here's what Jared chose to customize his proposal:
Round Halo Diamond & Platinum Engagement Ring from Gem Platinum
1 round brilliant diamond (0.70 cts.) with 36 round brilliant diamonds (0.32 cts.)
Approximate retail value: $7,500
Venue: Historic Water Tower
Charity of choice: ASPCA
And here's the love story he told that won our judges' hearts:
"I knew Whitney was the right one for me when I finally felt at home in the city of Chicago, because she was here with me. We had moved from Oklahoma together, and we were young and broke, eating potato sandwiches and trying to make it in this big city during our first harsh winter. It was hard to not let the city swallow me alive, but when things were tough and I was discouraged, I looked at her I knew we were a team and we were in this together. Today, we have been together almost nine years, and have lived in Chicago for eight of them. We are each other's support team and we LOVE our city and each other. We have worked hard to make our big city dreams a reality and I can't wait for our next adventure."
November 14: An email from Jewelers Mutual popped into Jared's inbox and his heart promptly skipped a beat. His response was pure excitement:
"I can't believe I won!!!!!! She's going to flip out!!!!! Thank you so much!"

The Big Day - December 5, 2014
2:00 p.m.: Jared met with us at a local coffee shop, where we went over the plan. He even got a sneak peek of the ring.
Of course, being the jewelry insurer that we are, we made sure not to display the ring in plain sight. A gift bag from the coffee shop did the trick.
5:45 p.m.: The cellist and videographer arrived on site. Jared worked with us to further customize his proposal by having Whitney's favorite song, "Hallelujah" by Jeff Buckley, playing in the background as well as capturing the entire sequence on film.
6:00 p.m.: Everything was all set up at the Historic Water Tower. All we needed was the happy couple themselves.
6:01 p.m.: We spotted Jared and Whitney coming our way ... and they walked right by! *Cue moment of minor panic.*
6:02 p.m.: A text comes in from Jared's phone.
6:03 p.m.: SHOWTIME! We can't do the moment justice with words alone. See for yourself!
7:00 p.m.: This calls for celebration! The prize package also included an engagement party at popular French restaurant Bistronomic, where both local friends as well as the couple's families from Ohio and Oklahoma were there to surprise Whitney. The family toasted the happy couple, and Jewelers Mutual gave the first engagement gift - a set of beautiful champagne flutes from Tiffany & Co.
We wish the happy couple nothing but the best as they plan their wedding - tentatively scheduled for October 7, 2017 ("Fall is our favorite time of year, and that will give us time to save and plan for the big event," said Jared.) - and start their lives together. Share your congratulations for Jared and Whitney in the comments below!