Brides Getting Creative With "Something Blue"
on

Jun 21, 2011 2:19 PM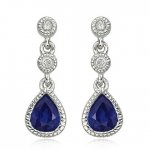 Brides are getting more creative with their "something blue." We've seen photos of blue shoes, blue garters and even blue dresses!
But there is another way to sport your "something blue" and keep your style.
Many gemstones come in a beautiful array of blue hues. For example, sapphires are often a brilliant blue and pair well with diamonds. Hint hint, gentlemen.
Topaz comes in many shades blue, perfect for a summer wedding.
Speaking of turquoise, a turquoise necklace could be the perfect accessory to make your wedding ensemble uniquely you.
In fact, tourmaline, aquamarine, zircon, topaz, tanzanite, lapis and opal can all be found in a shade of blue!
As we've pointed out, there are tons of blue gemstones that you can wear on your wedding day, or any day for that matter! So be creative when you're selecting your something blue.