Fall in Love With 3 Fall Jewelry Trends
on

Sep 25, 2013 8:25 AM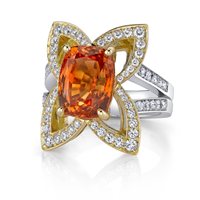 Ready for fall jewelry trends? We pulled our favorite finds from industry partners, fashion magazines and the red carpet to give you a flavor of what you can look forward to seeing more of in the months ahead.
As part of the jewelry industry, we keep a pulse on the latest jewelry fashion trends. If there's one thing we know, besides how to protect your special pieces, it's that no ensemble is complete without the finishing touch: jewelry.
(Source for the Omi Privé cocktail ring at right: JCK Online)
Here are a few trends we adore for fall:
1. Unique rings
Slip on rings that show a sense of individualism. Go vintage with colored stones over white diamonds, even for engagement rings. You may also want to consider sporting a set of knuckle rings or opt for stacking rings. Let's not forget the big, bold cocktail rings which are hot as ever, as evident at the 65th Emmy Awards.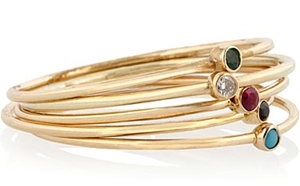 Jennifer Meyer Set of 5 18-karat Gold Stacking Rings, $875; net-a-porter.com.
(Photo source: Marie Claire)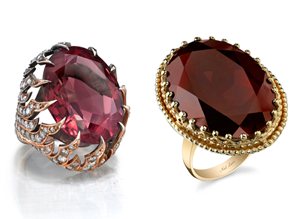 Kaley Cuoco, of "The Big Bang Theory," wore Neil Lane's 18-karat gold, ruby and diamond ring and 18-karat gold and ruby ring at the Emmys.
(Photo source: National Jeweler)
2. Statement necklaces
As the sweaters come out, covered-up necklines scream for statement necklaces. On-trend styles include a mixture of pearls, silk, tassels and metals, as well as bold, bright colors. Also look for materials like fur, leather chords and chain links.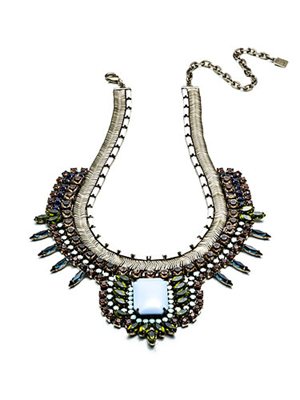 Dannijo Brass-Plated and Swarovski Crystal Eva Necklace, $778; dannijo.com.
(Photo Source: Marie Claire)
3. Drop earrings
Whether you're going for a vintage or a more modern look, drop earrings add a flirty accent to V-necklines. Popular styles include teardrop pearl earrings and unique colors such as champagne.
Erickson Beamon Whiter Shade Earrings, $485; farfetch.com.
(Photo Source: Marie Claire)
Carrie Underwood performed at the Emmys wearing Michael M.'s 18-karat white gold, black diamond and diamond earrings ($31,750).
(Photo source: National Jeweler)
Top fall colors
JCK just featured the 5 top color trends for fall jewelry: Black and (Off) White; Gold; Pale, Powdery Pink; Mossy Green; and Orange. Check out the jewels to pull it off.
Share your jewelry inspiration!
Whatever your style preference, have fun mixing and matching for a look that expresses your personality and flaunts your sense of style. Pin your favorite fall jewelry photos to our Fall Jewelry Pinspiration board on Pinterest and we'll do the same all season long.
Say hi to your jeweler before the holidays
Bring your seasonal and special occasion jewelry in for a professional cleaning and inspection and don't forget insurance! You can bundle your entire jewelry collection under one Jewelers Mutual policy. Adding jewelry to your existing policy is easy.*
*Adding jewelry to an existing policy requires a current copy of a detailed receipt, appraisal or evaluation. Coverage is subject to the provisions, limitations, exclusions and endorsements in the policy and the level of coverage you select.