Gems by Geography: South Dakota and Black Hills Gold jewelry
on

Oct 18, 2012 10:36 AM
The rich colors of autumn with its deep purple, sunset orange and glimmering gold leads us to the next stop in our Gems by Geography journey - the Black Hills of South Dakota, home of Black Hills Gold.
The "state jewelry" incorporates the tri-color combinations of green, rose and yellow gold we all recognize so well.
History
Black Hills Gold jewelry was first created in the 1870s during the Black Hills Gold Rush by a French goldsmith named Henri LeBeau, who is said to have dreamed about the design after passing out from thirst and starvation. In the 1980s, the 8th Circuit affirmed an injunction ruling that if a manufacturer was to call its jewelry Black Hills Gold, then it must be made in the Black Hills.
Fun facts
Common characteristics include leaves, grape clusters and vines
Made of alloys of gold with standard yellow gold and also the signature green and pink gold
Pure 24-karat gold bars, and stocks of pure silver and copper are the basic materials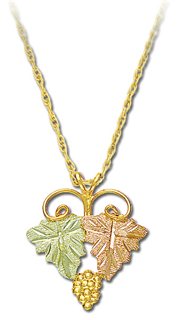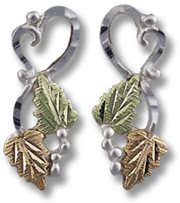 (Photo Source: Landstroms)
How it's made
Pure 24-karat yellow gold is alloyed with silver to create the vibrant green, and is alloyed with copper to make the dazzling pink. The resulting alloy is a more durable 12 karat gold. Watch the making of Black Hills Gold jewelry. 
Caring for your jewelry
Because the pink and green Black Hills Gold leaves are created by alloying with other metals like copper and silver, tarnishing can occur over time.Avoid contact with hand lotions, cosmetics and hairsprays which contain substances that may darken the surface of your jewelry.
To clean your jewelry, use a soft toothbrush and warm, sudsy water. However, be careful when cleaning gemstones such as opals and pearls - the compounds used to mount these settings may be weakened by prolonged soaking.
To avoid causing potential damage to your pieces, visit your jeweler for regular cleanings.