Gems by Geography: Turquoise, Nevada's finest
on

May 2, 2012 2:46 PM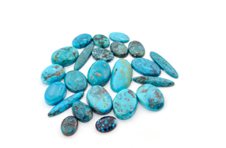 This month in Gems by Geography, we take a closer look at the hot stone for spring and summer: Turquoise, Nevada's finest gem.
Sure, we talked about turquoise as one of December's beautiful birthstones, but when it comes to this gemstone, one mention simply isn't enough.
Saddle up. Our geographical journey begins in the Southwest.
Turquoise is the state gem of Arizona, Nevada and New Mexico, where it's important in Native American culture. It's also one of the oldest known gemstones - it has been mined since 3,200 BC.
Turquoise first came into popular high fashion in the U.S. during the early 1890s, but was from Persia since there was yet little known supply in the U.S. But soon, American turquoise was discovered from the Western US and was recognized as equal to any turquoise in the world. The majority of the turquoise jewelry produced prior to 1910 was made by well-known jewelry manufacturing companies like Tiffany's.
Turquoise comes in various shades of blue, blue-green, green-blue, and green, and also unique shades of bright mint to apple to neon yellow green. The bright green to yellow-green hues indicates that turquoise may contain significant zinc and iron. In general, the bluer the blue, the more highly valued the turquoise.
Below is a beautiful turquoise pendant by Lika Behar, accented with 24k gold and surrounded by diamonds. Source: JCK Online
Does your turquoise have veins? These intricate patterns, called spider webs, contain other materials and are usually black, brown, or yellowish-brown in color. Many people prefer the web-effect because it sets off the color and gives their turquoise jewelry an organic look.
Handle with care
Special care is required for turquoise. Since it's a porous gemstone, turquoise can absorb anything it touches. Avoid contact with cosmetics, lotions, perfumes, skin oil, acids, and other chemicals. Also avoid exposing it to heat. Don't be surprised if your turquoise jewelry gradually changes color from everyday wear. To clean your turquoise, wipe it gently with a moist soft cloth. Talk to your jeweler for more details on how to best care for your turquoise.
Long drop earrings are all the rage this season. Try a turquoise pair as featured in the April 2012 issue of Allure magazine.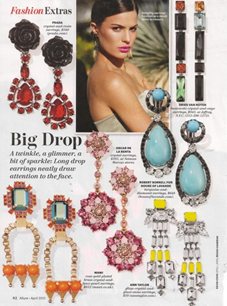 If you like the color turquoise, you'll love this Pinterest page on all things turquoise.