Gems by Geography: Utah's gemstone is rarer than diamonds
on

Dec 18, 2012 10:07 AM
Happy holidays! Now seems like a good time to roll out the beryl. This special Gems by Geography blog series takes us to Utah where we marvel at the seasonal "gooseberry" color of red beryl.
Utah's gemstone is so rare that one red beryl crystal is found for every 150,000 diamonds.
Discovered in the late 1970s, red beryl is found in gem quality at only three locations in the world: the Thomas Range and the Wah Wah Mountains in west-central Utah, and the Black Range in New Mexico.
Found in white volcanic rhyolite, red beryl's desirable color comes from cesium and manganese.
Red Beryl Fun Facts
Fewer than 10,000 stones are cut per year
Remains one of the most expensive of all colored gems
Estimated to be worth 1,000 times more than gold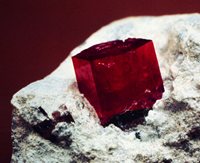 (Photo sources: Tumblr)