How to Insure a Ring Without Spoiling the Surprise
on

Jun 3, 2011 2:30 PM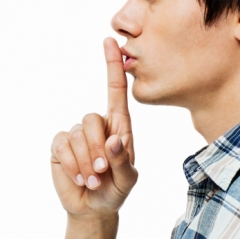 It wasn't long ago when Jewelers Mutual account representative, Adam, experienced the same paranoia that a lot of guys go through in the days leading up to a proposal: Keeping his mouth zipped in conversation, not trusting the ring will be safe in his care, and being careful with whom he told so the secret doesn't slip.
One surefire way to ruin the surprise is to have insurance paperwork lying around. I'll give you advice on how to insure a ring pronto, and keep it quiet until you're ready to pop the question.
Step 1: Round up the paperwork
The most important piece of paper that we will need is a detailed description of your jewelry. If the value of the ring is below $5,000, a detailed sales receipt dated within 18 months is also acceptable.
The detailed description takes into account the current market conditions and all the physical attributes of the ring to give an estimate of how much it would cost to replace it.
Q. Why is the appraised value sometimes more than the purchase price?
A. The purchase price may include deals and discounts that do not reflect the true value of the ring. If the ring becomes lost, damaged or stolen, you want to make sure it's insured for is worth (the appraised value), not the price it was discounted at, which could mean a replacement of unequaled quality or value compared to the original.
Quick tip: Have your appraisal ready before you apply. If the appraised value ends up higher than the value you put on the application, Jewelers Mutual will have to contact you, which increases the likelihood of spoiling the surprise.
Step 2: Apply for insurance
The easiest and fastest way to apply for coverage from Jewelers Mutual. You can also get a free, no-obligation quote first and play around with deductible amounts to see what annual premium works best for you.