Importance of Having Your Jewelry Insured
on

Sep 15, 2011 1:22 PM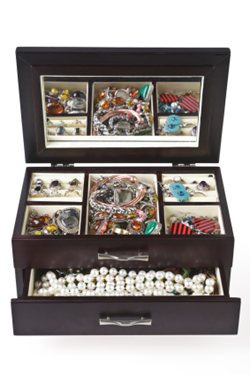 Open up your jewelry box and what do you see? A plethora of earrings, a few trinkets and mementos, Grandma's earrings, a pearl necklace, a couple watches, assorted bracelets, the list goes on. It would be easy to say, "Insure it all!" But really, must you?
As we mentioned before, working at Jewelers Mutual has opened my eyes to the importance of having your jewelry insured. One of the questions that comes up often as people call in is "What items should I be insuring?"
You may have a whole jewelry box full of treasures that you'd hate to lose, but there are some items you should definitely consider insuring more than others. Give special thought to jewelry that is $500-$1,000 or more in value, and keep the following items in mind:
Engagement rings and wedding bands (we know it's obvious, but we had to mention it)
 
Bracelets (more susceptible to damage because it's easy for them to get caught on things)
 
Rings with pave or invisible settings (they're more prone to losing diamonds)
 
Charm bracelets (all those individually priced charms can add up to an expensive bracelet)
Keep an eye on your gold and diamond jewelry. With the dramatic price increases experienced even over the past few months, your jewelry could be worth a whole lot more today than it was a year or two ago. Your jeweler can update its value to current retail replacement value to help give you a better idea of what should be insured.
If you're still unsure, ask yourself this: If the items become lost or stolen, would you be able to afford to replace them? If not, insurance is something to consider.
Keep in mind that regardless of what the monetary value is, it's the sentimental value that's likely going to matter most to you in the end. "We see far too often that insureds don't schedule the lower-valued items and, of course, those are the items that inevitably are damaged or lost," said Kim Tessendorf, senior claim representative at Jewelers Mutual. "No matter what the value of a sentimental piece, high or low, the insured is always upset with that loss." And rightfully so.
If the thought of loss on an item is too much to bear, do what you can to protect it properly. You'll have the peace of mind in knowing that you'll be able to get a comparable replacement to help restore the memories that were attached.
If you have questions about what to insure, call Jewelers Mutual at 888-884-2424. My motto: It's better to be safe than sorry.