July's Birthstone: A red-hot, ruby summer
on

Jul 8, 2011 2:02 PM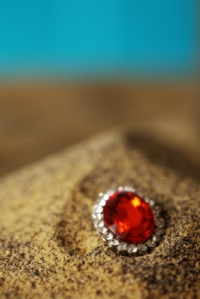 At the height of summer, thoughts turn to red, and we're not talking sunburns. July's birthstone is ruby! Happy July birthday to all of you. What a gem you have!
The crown jewel
Ruby is the ultimate red gemstone and has been long considered the most valuable. To give you an idea of its magnitude, in the ancient language of Sanskrit, it is known as "king of the gems."
Rubies represent courage, integrity, confidence and strength.
Just as diamonds have become the gem of romance, ruby is the gem of passion and is also thought to bestow wisdom, health and luck.
Wedding wonders
Deemed the wedding stone throughout the Middle Ages and early Renaissance, the ruby was supposed to keep passion alive and promote lasting love and contentment in a marriage. If worn on the left hand, it is believed that it will bring good fortune to its wearer. It is traditionally given as a gift on the 15th and 40th anniversaries.
How to choose 
Rubies tend to be priced by color. The closer a gem is to vivid red or purplish red, the higher the value. They're also rare and valuable in large sizes – a quality 4-carat ruby will sell for more than a top 4-carat emerald or diamond. Because rubies are of the hard mineral corundum, they are said to be the most durable gems.
Proper care
Clean rubies with a mild dish soap using a toothbrush.
For more jewelry cleaning and care tips and for more gemstone education, refer to the Gem Institute of America (GIA).
Own the July birthstone? Tell us about it!