October's Birthstones: Color wonders of opal and tourmaline
on

Oct 7, 2011 1:13 PM
In the Midwest, you'll be hard pressed to find a person who doesn't marvel at the wondrous colors of autumn.
We whole-heartedly admit to being a bit fanatic about our joy over the seasonal spectacle of fiery reds, burnt oranges and glimmering gold. And so, it makes sense that I'm equally enthusiastic about October's birthstones.
Mother Nature couldn't have planned it better herself. Given the kaleidoscope of outdoor color this time of year, October birthstones are quite fitting.
On one hand you have the Opal, valued for its "shifting play" of color. On the other, there's the Tourmaline, which comes in a rainbow of colors and combinations to suit your every mood. Both gems are lovely to wear and easy to acquire.
Opal
Opal is said to protect blonde hair from losing its color. Who needs a hair stylist?
Back in the day, this gem was also known to benefit eyesight and has been used for everything from easing childbirth to bringing strength in battle. Long known as the "Wish Stone," it is supposed to promote love and romance and grant wishes and personal happiness. Read more about the opal.
The most common colors seen are green, blue, yellow and red. Great for any girl's wardrobe, this gem can match just about anything.
What we didn't know is that it also comes in black, which is the rarest and most valuable of the gem collection.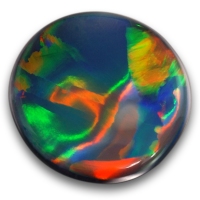 Tourmaline
You also have tourmaline as an option for an October birthstone. Like opal, tourmaline comes in a wide range of colors and sizes, ranging from dainty to huge, at virtually every price level.
It is said to bring high energy, good luck, creativity and romance, depending on its color. Read more about tourmaline.
Cleaning and care
The best cleaning method is with a soft damp or dry cloth.
Want to stay in the know-the-know on proper cleaning and care tips for your birthstone jewelry? Visit the Gem Institute of America, an excellent educational resource to keep your jewelry in top condition.
The American Gem Trade Association's website is also chock-full of information on gemstones, plus all the latest gemstone fashions for fall. Check it out!