Sarah's Hope Jewelry: Giving hope for the holidays
on

Dec 30, 2014 2:44 PM
Every parent wants a happy, healthy and successful child. Many successes are made possible by education, which is free to children in many areas of the world.
But, what if education wasn't readily available to your school-aged child? What if education was classified as a luxury, rather than a necessity, and only a select few were chosen to enroll in school?
Imagine your joy in learning that your child was one of the chosen few, only to have that glimmer of hope extinguished when the only educational institution in the area shut its doors.
This is exactly what happened to Miriam's nephew.
Meet Miriam

Miriam's dream of starting a farm in her homeland of Tanzania was born of hard experience. Her nephew was one of the few students selected to attend a state-run boarding school in Kilimanjaro - until it was forced to close because of food shortages.
Miriam, now living in the U.S., realizes her nephew and her home country have limited futures without education.
Giving Hope
This is where Sarah's Hope Jewelry comes in.
Established in 2003 by Sarah J. Smith, Sarah's Hope Jewelry is a socially responsible jewelry company that donates time and profits to support small business development opportunities for women around the world.
With scholarship assistance from the company, Miriam enrolled in a business program and created a plan for her farm with the goal to return to Tanzania and grow crops to supply the school.
Sarah's Hope Jewelry Collection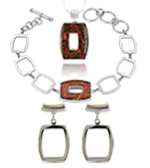 Not only does Sarah's Hope Jewelry donate both time and profits to support small businesses, but their manufacturing practices ensure that their employees are paid a fair wage and are treated with compassion and respect.
Additionally, each piece in the Sarah's Hope Jewelry line is designed in honor of - and named after - one of the women who benefit from the microloans they support.
Miriam's story inspired a pendant, bracelet and earrings with openings in the middle, representing the hole that must be dug in order to plant and grow a seed - which eventually becomes a full harvest. By nurturing her dream, Miriam plants a seed of hope for the prosperity of her family, community, and country.