Shopping for Diamonds Doesn't Have to Be Scary
on

Oct 27, 2011 1:07 PM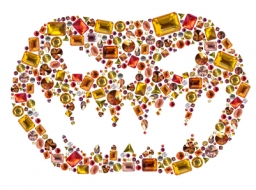 Shopping for diamonds can be a scary subject if you're the one making the purchase decision. If you have plans to pop the question over the holidays, or just want to find your special someone an extra special gift, now's not the time to get spooked. It's time to get smart and savvy.
We know how the price of diamonds has increased over this past year (by as much as 25% in some cases). Consider it an investment and appreciate its potential growth in value over the long (or not so long) term.
How to buy a diamond
The quality, value and cost of a diamond are based on the 4 C's – color, cut, clarity and carat. What does it all mean? Here's the 30-second elevator speech (For more details, turn to Jewelry Information Center, one of our favorite, go-to jewelry resources):
Carat – A unit of measure used to weigh diamonds. The larger the diamond the rarer and more valuable.


Cut – The cut of a diamond refers to the angles, shapes and proportions of each diamond. A nicely cut diamond with proper shapes and proportions optimizes the diamonds natural radiance and brilliance by reflecting and refracting light back through the top of a diamond.


Clarity – A diamond's clarity is rated by the number, size and position of inclusions (or flaws) it has. The fewer the inclusions, the more valuable the stone.


Color – Diamonds are judged for their color, or lack thereof. In most cases, the whiter the diamond, the more valuable.
Choosing the shape
According to the Diamond Trading Company, 75% of all diamonds sold are round. But don't let that sway you. Other basic shapes include princess, marquise, oval, emerald and pear, not to mention asscher, radiant or cushion shapes. Choose the one that suits her best.
S
earching for perfection? Consider a Hearts On Fire diamond, where being "perfect" is in their every being. Who can argue with The World's Most Perfectly Cut Diamond and the attention to detail given to the diamond-making process that goes far beyond industry standard?
Trick or treat?
It's no trick, orange and black diamonds do exist. Visit the Natural Color Diamond Association website to read about their rarity and uniqueness.
Fear not. Ask your jeweler for help selecting a piece of jewelry she'll go crazy for (in a good way).