Show Your Olympic Spirit With Patriotic Jewelry
on

Jul 19, 2012 12:50 PM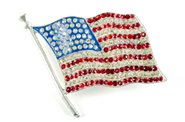 Coming off Memorial Day, then Independence Day, and in one short week the Olympics, our nation's patriotism is in full swing. And no surprise, interest in patriotic jewelry is on the rise.
Many jewelry retailers are seeing a significant sales growth in both men's and women's red, white and blue items – whether it's a necklace, earrings, bracelet or pin. 
As the USA proudly prepares for the Summer Games, people across the country are looking for ways to make a statement while honoring the U.S. and showing support for our amazing athletes.
Patriotic jewelry is most commonly seen in the form of stylized flags; although other options we've seen include etched stars or strips, red-white-and-blue gemstones, and "USA" stamps.
Get your game on
Below are a few patriotic jewelry items to get you in the spirit. Don't forget to check out our "Red, White and You" Pinterest board for additional inspiration. Go Team USA!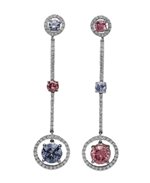 (Sources: Reeds Jewelers, Natural Color Diamond Association, Etsy.com)
What is your favorite Summer Olympics event?