Tick-Tock: Let's go shopping for watches
on

Nov 17, 2011 12:57 PM
Shopping for watches can be overwhelming. We would like to put a watch on our holiday list, but with so many styles to choose from, we're overwhelmed. Maybe you're having the same struggles, or need a gift idea for someone else.
Here are a few tips to help you narrow down your options and find a watch that suits your style.
For those rugged, athletic types: Sports watches, or chronograph watches, come in several varieties – think diver or pilot watches – and have multiple sub-dials for measuring hours, minutes, and seconds, plus a stopwatch function.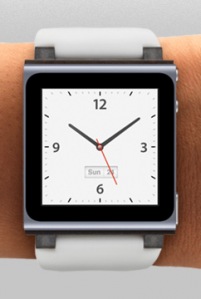 For those who like simplicity: No need to wind or wear these watches to make them work. Quartz watches run on a special battery and are the most popular type of watch on the market with many sleek and stylish options that take your watch from timepiece to jewelry.
For those who appreciate how things work: They'll be enthralled by mechanical watches which are either manual or self-winding automatic. Mechanical watches typically run for about 40 hours on one full winding. With a manual watch, the wearer must turn the button on the outside of the watch to wind it.
With a self-winding or automatic watch, you just need to wear it. Want less fuss? Consider adding a wind box to this gift. It will allow the watch to run without being worn and keep it in tick-tock shape.
For those who are eco-conscious: Check out the Eco-Drive watches which are powered by the sun.
For those who love music: Why not wear your iPod nano on a watchband? Apple has an amazing selection of 18 stylish clock faces to choose from. There are also color options so you can match the color of your iPod nano. Super cool.
Running on empty? If your watch comes to a stop, it's likely your battery is dead. This is not a DIY project. Visit your jeweler to get your battery replaced by a professional to prevent damage.
If you've had a battery replaced on a water-resistant watch, that means the seal was broken. It's best to keep the watch out of water from here on out.
Watch your hands. If it's been a year or two since you've had your watch checked by your jeweler, you're due for a visit. It's likely your watch has increased in value and you'll want to adjust your insurance limits to protect the "time" you have.
You can insure watches? Absolutely! Simply add it to your existing Jewelers Mutual policy.
Watch prices vary greatly based on style, functionality and brand name. To gain perspective, check out the "must-have" watches from Self.com. With so many options, you're sure to find a style that fits your budget and preference. Stay tuned for more in the weeks ahead as we keep a "watch" out for more holiday gift ideas.
What's the best gift you've ever received? Share it in the comment box.