'Tis the Season for Gift-Giving Jewelry Trends
on

Dec 13, 2013 4:13 PM
If you're still searching for that perfect holiday gift, you've come to the right place. We have compiled the must-haves from our friends in the industry to help give you guidance on what the 2013 gift-giving jewelry trends are.
One of our favorite resources for the latest jewelry trends, whether for the holidays or the change of seasons, is Jewelry Information Center. Below are some of their top picks. We like what we see and think you will too.
Convertible jewelry
Convertible jewelry is the gift that keeps on giving because it can be worn in so many different ways. For the person who likes versatility, pick earrings that change from studs to drops, charms the wearer can mix and match, and bracelets that convert to a necklace or ring.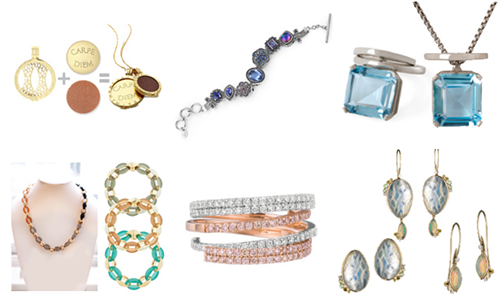 Pictured (L-R): Mi Moneda interchangeable pendants; Lori Bonn charm bracelet; Elena Kriegner sterling silver and blue topaz ring which can also be worn as a pendant; Andrew Hamilton Crawford transformable bracelets turn into a necklace; Pancis Gems pink and white diamond swirl ring can be worn as two separate rings or one ring; ZAIKEN Jewelry 'Throwing Stones' earrings convert in three different ways
Stackable jewelry
The more the merrier! The versatility of stacking jewelry allows you to easily add on to the gift for other special occasions. Help your friend or loved one stack in style with rings, bracelets and pendants and they can mix and match until their heart's content.
Pictured (L-R): Adwar Casting thin stackable bracelets in rose gold, yellow gold and white gold; Byard F. Brogan stacking rings; Goshwara stackable gemstone rings; Mijou Jewelry gold stacking midi rings; Pamela Huizenga stackable gemstone bracelets; LJD Designs 18K gold 'Banyan Tree' stackable rings
Read more gift-giving tips from JIC including thier recommendations for updated jewelry classics in gold and platinum.
Still stumped?
What would go good with her eye or hair color? Our jewelry industry friends at JCK Magazine helped take the guess work out of gift-giving by putting together 15 combinations of hair and eye colors, each matched to a unique gemstone, so you don't have to have the answer. Let the chart be your guide.

Looking ahead
Although it won't be available until April 2014, an entrepreneur is now marketing a smart ring that allows wearers to make phone calls, read texts, control their TV, and more.
The retail price is listed as $275 for the full-featured version. So for those of you who may be looking for an alternative to smartwatches, this may be a "smart" buy.
(Source: JCK)
Keeping gifts safe
If you're lucky enough to receive jewelry gifts this holiday season, consider how you're going to protect them for years to come. You may want to pass on special items to your children or other loved ones some day, so learning how to properly care for and insure your jewelry is essential. Having comprehensive worldwide coverage with Jewelers Mutual's personal jewelry insurance gives you freedom from worry to wear and enjoy your new jewelry.