Cameo Jewelry Making a Comeback
on

Aug 3, 2012 12:41 PM
The girl with the ponytail ... who could forget the cameo?
Over the years, it's made a comeback as we've watched vintage jewelry styles dominate fashion trends. Designers are embracing the look and incorporating cameos into more modern styles, where the present meets the past.
What is cameo?
The cameo design is a carving used on brooches, necklaces and rings often using materials such as stone, coral, shell, glass and fine metals.
Women pictured on cameos have included Romanesque ladies, with classical features such as long, straight noses and Roman dress, and more feminized images of women with upturned noses, jewelry and upswept hairstyles.
Designs also included figures of gods and goddesses of mythology. Whatever the model, she represented the idealized woman.
Is your cameo authentic?
Most modern cameos are mass produced with the aid of an ultrasonic mill, which gives the appearance of a shell carved cameo.
A clue to modern, mass produced cameos is the uniformity of the design. The ponytail girl is a good example.
If you have a cameo in question, bring it to your local jeweler to examine its hallmarks and determine its worth.
Cameo designs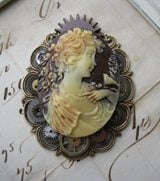 "Steampunk" cameo brooch
Cameo necklace from modcloth.com
Cameo statement ring from extasia.com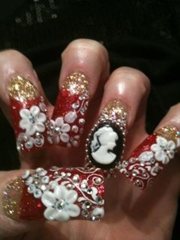 Cameo nails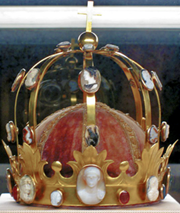 A bit of history: The Crown of Napoleon created in the 19th century
Care and cleaning
Dryness, aging and the elements can all discolor or crack a shell cameo.
Cameo jewelry should be stored in a clean, dry place. This will prevent damage and corrosion to the frame. Careful storage also helps to prevent the shells from becoming chipped.
Clean cameos by gently scrubbing with a soft bristle toothbrush in a mild soap and water solution. Then rinse with warm water.
A legacy for future generations
Cameos are still a very desirable heirloom. Whether the cameo is a pendant, ring, bracelet or brooch, antique cameos are genuine works of art and are often considered an investment that will be cherished for many generations to come.
Crazy about cameos?
Check out this amazing cameo collection we found.
Speaking of crazy… according to history, Pope Paul II was an avid cameo collector and his love of the cameo ultimately led to his death. His excessive display of carved gems and stones on his fingers kept his hands so cold that he caught the chill that caused his death.
Read more interesting facts on the cameo's history.
Do you own a piece of cameo jewelry? Tell us about it!