Jewelry at the Golden Globes Makes Statement
on

Jan 14, 2014 4:07 PM
This year's award season got off to a magnificent start thanks to the jewelry at the Golden Globes, and all that glitters kept jewelry lovers like us at Jewelers Mutual intrigued. There were plenty of standout pieces on display from some of the most prominent stars in Hollywood.
Golden Globe winner Amy Adams (American Hustle) rocked a Lorraine Schwartz long yellow gold pendant, Lupita Nyong'o (12 Years a Slave) proudly donned massive diamond studs and vintage yellow gold jewels from Fred Leighton and Sofia Vergara (Modern Family) created drama with an elegant black gown and a tremendous pop of color with carved turquoise and diamond choker, again by Lorriane Schwartz, to name a few. The Red Carpet is hot with jewelry inspiration for the year ahead.
(Source: Huffington Post)
Big Jewelry Trends from the Golden Globes:
1. Pinky Rings
(Source: Jewelry Information Center)
2. Diamond Studs
Reese Witherspoon adorn 4-carat platinum and round diamond ear studs, a 10-carat emerald-cut diamond ring and three stacked platinum and diamond line bracelets, all by Harry Winston.
(Source: JCK)
3. Art Deco
Zooey Deschanel showcased the estate bling, courtesy of Neil Lane, in platinum and gold styles featuring diamonds and pearls.
Jennifer Lawrence looked flawless in Neil Lane Art Deco platinum jewelry.
(Source: National Jeweler)
4. Geometric
Cohost Amy Poehler wore an oversize, gladiatoresque geometric-inspired cuff in yellow gold from Karla Welch for Jacob & Co.
(Source: Huffington Post)
5. Yellow Gold
Amy Adams stunned in yellow gold jewelry by Lorraine Schwartz.
(Source: JCK)
6. Color
From cocktail rings, to chokers (i.e. Vergara's turquoise number above), and bracelets.
Lawrence also wore Neil Lane's platinum, diamond and cabochon emerald ring.
Laura Dern of the HBO series Enlightened wore Graziela Gems' 14-karat yellow gold, amethyst and iolite "Purple Skies" ring.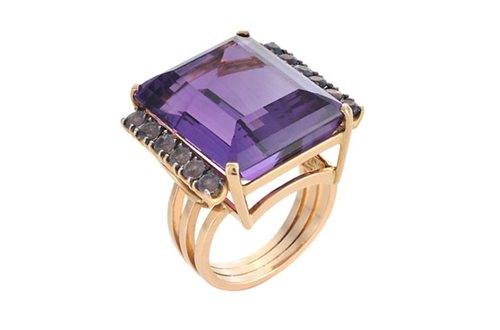 (Source: National Jeweler)
Flip through National Jeweler's full slideshow to see more of the trends and best pieces of the Golden Globes. And get ready for more jewelry trends on the Oscar Red Carpet as we recap the 86th Academy Awards, which airs Sunday, March 2.
Leave us a comment! Of all the the Red Carpet fashions you've seen so far, who sticks out in your mind as "Best Dressed"?