Twitter Party Travel Tips for Jewelry a Hit!
on

Jul 23, 2014 3:32 PM
The #TreasureTheVacation Twitter Party was hopping Monday night as 4,444 tweets reached 662,000-plus Twitter accounts. In fact, the hashtag trended twice during the hour making it even more popular at times than fans tweeting about #TheBachelorette!

If you missed it, we at Jewelers Mutual along with expert travel bloggers from Traveling Mom shared summer travel tips for jewelry and suggested Jewelers Mutual for added protection. Here's what some of the participants had to say:

@Trish Masi - Jewelry is just as important as shoes.
@Angie DePue - Going to Hawaii end of summer. I'm getting my jewelry insured before I leave!
@PastryChef777 - So neat that @JewelersMutual provides worldwide coverage!
Want a recap?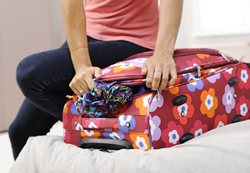 No one wants to worry about having precious jewelry stolen, damaged, lost or go mysteriously missing while traveling. Nothing could ruin a vacation more – especially if the jewelry is unable to be replaced. We want you to enjoy your getaway, worry-free! If you couldn't tune-in to our Twitter Party, or just want a quick summary of some of the great tips we provided, read on and get ready to travel with peace of mind.

Travel to see, not be seen.
If you're wearing a valuable ring with a large gemstone or diamond, consider turning it over so it looks like a wedding band drawing less attention to you. Or wear your ring on a necklace chain and tuck under your shirt.

Carry it on.
Consider using protective casing during transport and never place it in checked luggage. Always wear it or place it in your carry-on.

Insure your jewelry.
Before jetting out, insure your fine jewelry with our worldwide, repair and replacement coverage. A policy from Jewelers Mutual provides protection against loss, theft, damage and mysterious disappearance (or unexplained loss).

Keep it separated.
Store jewelry in separate compartments to prevent scratches to precious metals and gemstones or tangling of necklace chains. Consider purchasing a jewelry roll.

Use the hotel safe.
Never keep jewelry out in the open on a night stand or bathroom counter in your hotel room when you're not there. Use the safe when not wearing it. No good place to lock the jewelry away? Keep it on you, either wearing it or in the purse you plan to carry.
What if you find a beautiful piece of jewelry while traveling?
Members with existing policies from Jewelers Mutual enjoy up to 30 days of automatic coverage (subject to a limit of $10,000) on any newly acquired jewelry.
Wondering what jewelry insurance costs?
Rates depend on where you live. But for most people, purchasing coverage from Jewelers Mutual will cost 1-2% of the value of the jewelry. For example, a $5,000 engagement ring could cost as little as $50 in annual premium to protect. Get a free quote and see for yourself! Our quote estimator lets you choose different deductible options, including $0; so calculate a few options and determine what fits your budget best.
Congrats to the winners!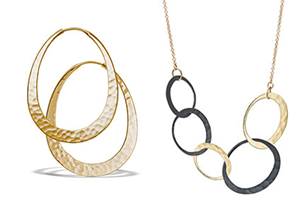 A special shout-out goes to the lucky winners of our #TreasureTheVacation Twitter Party – Mary Beth from Kentucky and Trish from Florida – whom won the beautiful Toby Pomeroy necklace and earrings, respectively.
We hope they put into practice the great travel tips they learned and insure their new pieces!

Happy travels to all! Where is your favorite summer getaway?