5 Fall Fashion Trends You'll Fall in Love With
on

Sep 6, 2012 10:56 AM
Labor Day weekend marked the unofficial end to summer. Now that September has finally arrived it's officially time to start thinking fall fashion trends (as if you haven't been doing that for weeks).
We've scoured the style sites to give you the rundown of the biggest trends of the season in fashion and jewelry.
What did we discover? We thought you'd never ask. Stay on trend with these five, fine fashion tips.
1. Add color
Every season brings with it an exciting color palette. This year make room in your closet for Tangerine Tango, Olympic Blue and Titanium Grey to name a few. Some bold colors remain, but neutrals, and earthy colors also get added to the mix as well.
The Pantone fashion color report for fall 2012 reveals more about the tantalizing shades: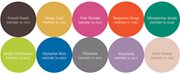 Oh, and did you hear? White is the new black and has been all over the runways. (Check out Jordin Sparks rocking a white dress at the U.S. Open gala.)
Contrary to popular belief, wearing white after Labor Day is allowed.
2. Cover up
Sleeves are long and collars are high. Look for clothes with strong shoulders, a defined waist, and below-the-knee hemlines.
3. Flaunt patterns
Floral and eccentric patterns were featured in almost every top designer's lines during this summer's fashion weeks.
4. Play with plaid
Try a plaid jacket or overcoat that's both chic and flattering, but don't over-due it.
5. Accessorize
According to Bazaar, the Fall 2012 runways brought a "moody elegance" to accessories, with the season's metal of choice being silver. Other fall jewelry trends we're hearing about include:
Milky stones with metal accents
Collar necklaces
Leaf, animal and floral accents
Geometric shapes
Tribal patterns and colors
Seed beads, wood beads, resin stones and enamel accents
(Flower choker, Source: Bazaar)
We just had to share these inspirational jewelry collages we found to give you a flavor for the on-trend jewelry fashions of the season: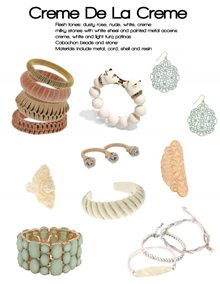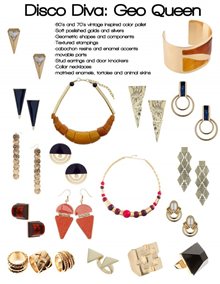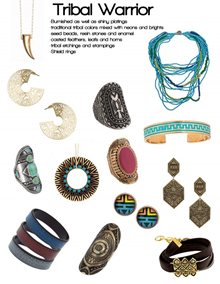 (Source: WM Design House)
Can't quit summer cold turkey?
September is a time of transition from summer to fall. The key to cross-seasonal fashion longevity: layering.
Choose a cropped denim, leather or asymmetrical jacket and you can add weeks to the wear of a floaty skirt, maxi dress or sundress. Add a scarf to brighten up an outfit and ward off the fall chill. And bring out the slouchy boots to keep the tootsies toasty, but also stay stylish with the shorter skirts and dresses of summer. 
Check out the fun textures in this fall line-up from InStyle.
What's your favorite fall accessory?