Gems by Geography: Big Texas, Blue Topaz
on

Jun 7, 2012 2:16 PM
Deep in the heart of Texas, there's a treasure to behold.
This month's Gems by Geography profiles the Blue Topaz, which became the official state gem in 1969 and is found in the Llano uplift area in central Texas, collected by locals and tourists alike.
This mystic gemstone is said to have a cooling, appeasing effect, known to dispel sadness, anger, and nocturnal fears, to name a few.
What makes topaz so fascinating?
For starters, it's not just blue. Topaz is a fluorine aluminum silicate and comes in yellow, yellow-brown, honey-yellow, flax, brown, green, blue, light blue, red and pink ... and sometimes it has no color at all. It's used in jewelry because of its hardness and beauty.
In Texas, it's most beloved for its intense blue color, especially when faceted in the Lone Star cut, true to its roots.
Where can you find topaz?
The state gem of Texas is found within the borders of the state only in Mason County. It is usually found in streambeds and ravines, but occasionally can be located right on the ground.
In Texas, you can enjoy topaz hunting throughout the year. Currently, there are several Mason County ranches which offer the public the opportunity to go on a topaz treasure hunt. Since there is no commercial mining of Mason County topaz, hunting it yourself is one of the main ways of finding it.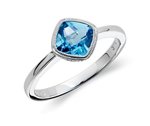 Southern Living even named Topaz Hunting as one of the 10 adventures in Texas' Hidden Hill Country. In fact, it's here where the largest known gem-quality topaz was discovered – a 1,296 gram, pale blue crystal that now calls the Smithsonian Institution in Washington, D.C., home.
In color, size and clarity, Texas Topaz is considered among the best in the United States. You know what they say in Texas, "Go big or go home."
If you're in search for a fun get-away, visit the Mason County Chamber of Commerce for more information on topaz hunting.