5 Holiday Gift Items to Avoid
on

Dec 8, 2011 11:56 AM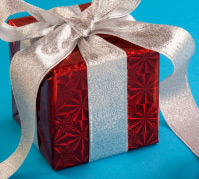 We'll be the first to admit, with all the holiday hustle and bustle, it can be very stressful to come up with the perfect gift.
If you're looking to impress your loved ones, consider the top 5 holiday gift items to avoid from ManoftheHouse.com.
This year, if you really want to give something special, you may want to re-examine your options.
Gift cards. This gift idea is often seen as the easy way out, but for the hard-to-buy-for person on your list, a gift card is a no brainer. Plenty of people love to get them, but if you're looking to add a personal touch to your gift, this isn't the best option. However, gift cards could make a good add-on to something you put a little more thought into.


Tools. It's risky business. While the gift may be practical and well-intentioned, selecting the right tool is difficult unless given proper instructions. So unless you have explicit details on what brand and type of tool to look for, don't wing it. Besides, it's often difficult to "show the love" with a hammer or cordless drill.


Pots and/or pans. Know your audience! You may not want to consider this gift unless it's specifically asked for, especially if the person on your list is currently using her oven as a place to store sweaters. This time of year, even die-hard cooks may want to get away from it all. Think about saving the cookware for a birthday or housewarming gift.


Anything that has to do with cleaning. No vacuums, no dusters, no mops, etc. Again, while these gifts may be a sensible choice, they might be best-saved for the recipient to purchase his/herself. How about some good clean fun with a board game instead!


Weight-loss related items. No one wants to admit it, but most of us tend to put on a few extra pounds over the holidays. The last thing people want is to be reminded of it. Come New Year's, we'll make the resolution to buckle down and resurrect our fitness routine. But for now, let us indulge in eggnog, endless quantities of cookies and festive cheese balls. The treadmill can wait.
What's the take-away? Choose something that will be special and meaningful for you and the recipient.
Perhaps a night out to a favorite show or restaurant? A massage at a spa? A new pendant for a charm bracelet (check out Pandora's helpful gift advisor)? The newest techie gadget like an iPad or a new phone?
What about a watch or necklace? The opportunities for a memorable holiday season are endless when a little thought is involved. Happy holidays!