5 Tips to Make Your New Year's Resolution Stick
on

Jan 12, 2015 10:22 AM
We all have the best intentions when it comes to making resolutions, but studies show that one out of three people will give up on their resolutions before the end of January.
How can you make it through? We have just the tips to help you make your New Year's Resolution stick!
Be specific: Avoid vague goals, such as "exercise more." Instead, specify measurable outcomes, such as "walk for 20 minutes four days each week."
 
Break it down: Start with small, achievable steps. As you make progress, you'll build confidence to take on more challenges to get you to your goal.
 
Track it: Record your progress. Writing down your accomplishments along the way can help you stay focused and determined to succeed.
 
Get support: Support from friends, family and coworkers boosts your confidence, and can help you persevere through tough times.
 
Reward yourself: Celebrate your successes as you go. Continual positive reinforcement will keep you motivated for the long haul.
Ring in the New Year?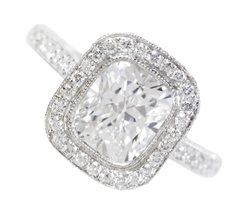 Jewelry would be the perfect way to mark your outstanding achievements throughout 2015. As you acquire new jewelry items, resolve to take special care of them. Here's how:
Visit your jeweler to get regular cleanings and inspections, update your values, and ensure a proper fit.
Be sure to keep your jewelry safe at home and while traveling.
Get it insured. A wedding blogger once likened not getting jewelry coverage to saying, "I'm ok with the very real possibility of losing thousands of dollars one day." That statement really hit home home with a lot of readers. Don't let 2015 be the year your engagement ring (or other sentimental item) goes missing and you can't afford to replace it.
Proactively protect the symbols of your love and success with personal jewelry insurance coverage from Jewelers Mutual. It will be the greatest resolution you ever made to ensure your future happiness. Learn more and get a free quote today!