6 Ways to Know If You Need Jewelry Insurance
on

Feb 20, 2014 3:51 PM
Valentine's Day has come and gone, but we at Jewelers Mutual hope your new jewelry lasts forever.

According to the Insurance Information Institute, "rings, watches and other jewelry items are among the most frequent of all home insurance content-related claims."
Based on personal claims filed with Jewelers Mutual, mysterious disappearance is one of the most common reason for loss – and it's a type of coverage which can be overlooked by other carriers.

Understanding the need for the right insurance often happens after it's too late.

How do you know if your new jewelry is worth insuring?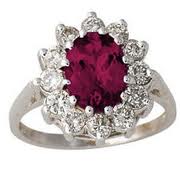 Ask yourself these questions. If my new jewelry went missing today, would I be ...
Devastated about the sentimental loss?
Afraid to wear my other jewelry for fear of losing it?
Unable to cover the cost to replace the piece?
Subjected to coverage limits with my current insurance?
Forced to work with a jewelry replacement company and not my preferred jeweler?
Worried about having to settle for a replacement of lesser quality than the original?
If you answered "yes" to 1 or more of these questions, consider adding your new jewelry to your existing Jewelers Mutual policy.* It's a cost-effectve way to ensure that all your treasured jewelry is covered.

Not insured with Jewelers Mutual? Learn why it makes sense to have a separate policy just for jewelry.

*Adding jewelry to an existing policy requires a current copy of a detailed receipt, appraisal or evaluation.