Bridal Jewelry Trends to Make Your Big Day
on

Jun 28, 2012 2:01 PM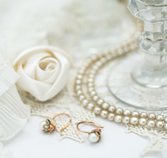 It's wedding season ... one of our favorite times of the year!
As brides across the country prepare for their special day, one of the big things they're likely contemplating is accessories. As they say, if the dress makes the wedding, then the jewelry makes the dress.
What bridal styles are hot for 2012? Come explore with us! 
According to our friends at JCK, popular trends this year include bridal art, statement bands, colored diamonds and organic designs with a vintage feel. 
Jewelry styles to consider:
Long sleeves and higher necklines call for intricate necklaces with pearls or beads.
 
Vintage-style jewelry works well if you're going for old Hollywood glamour. Pearls and diamonds with rhinestones are popular choices, as well as vintage broaches. 
 
Yellow gold jewelry is making a comeback.
 
Custom-made jewelry is a way to make your accessories truly unique to you.
 
Bold, chunky jewelry is still popular. Try a cuff bracelet or pendant as long as it doesn't weigh down your look.
Bridal jewelry dos and don'ts
DON'T wear a watch: Let someone else keep you on track. Choose a shimmery bracelet instead.
 
DO add color: Work in the color of the bridesmaids dresses with jewel-toned earrings, a bracelet, or even fun shoes.
 
DON'T over-accessorize: Less is more.
 
DO wear it again! There's no reason why you can't wear your wedding jewelry after the big day. Your accessories can dress up your look and may be perfect for a special night out.
Protect your cherished memories
Remember, your wedding jewelry is something that's going to hold special memories for years to come and could be instant heirlooms to pass on to your children. Keep your treasured pieces properly protected and have the peace of mind that comes from knowing that whatever happens, wherever it happens, you're covered.
Whatever bridal jewelry you decide on, make sure your style reflects your personality, and above all, have fun with it!
What special accessories did you incorporate into your bridal style?