Charm Jewelry Trend Shares Lifetime Stories
on

Feb 24, 2011 3:30 PM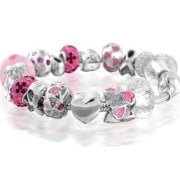 There is much to be said for the charm jewelry trend that's sweeping the nation. Retail Jeweller magazine listed charms among the big trends for 2011.
It's time to appreciate the simple things in life.
If you have yet to own Pandora, Chamilia, or other charm-related jewelry, we have a feeling it won't be long before you find the idea as "charming" as the rest of us.
A storybook collection
Every time you wear your bracelet, it likely brings a smile to your face as you recall the memories each charm represents - perhaps your wedding anniversary, the birth of your children, or a milestone birthday.
Each special charm tells a story, which makes the bracelet priceless, not to mention quite the conversation piece.
However, not everyone who owns charm jewelry chooses to story-tell. Some women simply enjoy creating a unique style all their own with the plethora of different bead options.
The great allure of this particular jewelry item is that as many women who have a charm bracelet, no two are alike.
Protecting priceless memories
No doubt, you can't bear the thought of losing your charm jewelry (or any jewelry for that matter). Who can blame you, given that it may singlehandedly hold more memories than anything else in you jewelry box?
Depending on the style and brand name of your charms, each could range in price from as little as $15 to a whopping $700 - meaning if your bracelet is fully loaded, you've got a lot to lose.
Play it safe and keep inventory of each charm you own - take pictures along with detail descriptions, including the charms' values, and keep your records in a secure place.
Above all else, get it insured! You can add your charm jewelry to your Jewelers Mutual Insurance policy. 
If you're looking for a truly unique gift item for the special people in your life, charm them! And by all means, get charmed yourself! You'll treasure the precious memories for years to come.
What stories could your jewelry tell?