Doggone It: My dog ate my jewelry!
on

Mar 10, 2011 3:19 PM
Remember the classic grade-school excuse for not turning in homework? You'll be happy to know that "My dog ate it" works for jewelry claims too.
As a fourth-grader, your teacher may have given you a look of disbelief after you stuttered your way through your tall tale, but Jewelers Mutual claims representatives won't even bat an eye.
Why? Because they know that in life, crazy things happen to good people.
Anyone who has a dog has come to terms with the fact that pretty much anything goes as far as what their canine companions will put in their mouths.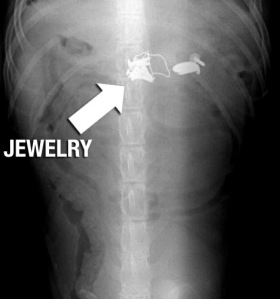 A few years ago, a Jewelers Mutual policyholder experienced it firsthand as her dog came between her and one of her lustrous, green Tahitian pearl earrings.
She was too late to stop her pet's piqued curiosity and helplessly watched as her precious pearl was swallowed.
The earring was reportedly in the dog's digestive tract for two days before it passed on the third day, according to an article published on the incident in Gems & Gemology, the quarterly Journal of the Gemological Institute of America.
Author of the article, Kay Kostelny, a GIA Graduate Gemologist said, "I was amazed at the condition of the pearl after being in the dog's digestive tract for three days!"
Surprisingly, the pearl earring remained structurally unharmed and maintained its luster.
The most noticeable difference was the size and color of the swallowed pearl - it shrunk approximately 1.30 millimeters and was noticeably darker and less green in color.
Kostelny worked with a pearl vendor to find a matching replacement pearl, which was no small task. Kay recalled that the customer "was pleased to find out just how unique each and every pearl really is," and was made whole again with a new Tahitian cultured pearl.
Not only is Kostelny a gemologist, but she's now a Jewelers Mutual underwriter as well and says it's incredible to hear the claims calls that come in. "No two stories are alike."
We think it's safe to say that Jewelers Mutual personal jewelry insurance coverage is nothing to bark at. Insuring  with Jewelers Mutual means "My dog ate my jewelry" is an acceptable excuse.
What's the craziest thing your dog has ever eaten?