Keep Jewelry Safe During Your Busy Summer
on

Jul 1, 2011 2:09 PM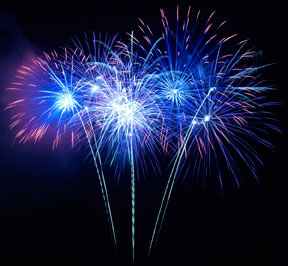 Independence Day. It's about the pool parties, backyard barbecues, family gatherings, fireworks and maybe even watching the Coney Island hot dog eating contest.
What it should NOT be is the day you're searching high and low for your ring after it slipped off while swimming, or went mysteriously missing after a sunscreen application.
There's no better time than today to mention that a little summer jewelry safety goes a long way, especially on a busy holiday weekend.
To prevent your 4th of July from fizzling, follow these tips to keep jewelry safe:
Remove all jewelry before going into a hot tub, swimming pool or ocean. Chlorine and salt water can damage and discolor metals like gold and platinum and can erode the polish of gemstones over time. Plus, when in cold water the blood vessels in your fingers constrict, making rings looser, which leads to increased risk of jewelry loss.


Remove all jewelry before showering and cleaning or applying lotions or sunscreens. These products can leave a film on your jewelry and dull its luster.


Remove jewelry before boating or if you're going to be dangling your fingers near a campfire. Recovery will be difficult if your jewelry happens to slip off.


Remove your jewelry before playing sports—a safety measure you and your opponents will appreciate. No one wants to get clunked with your rock, nor do you want to bend a prong or loosen a stone while rough housing.


When not wearing your jewelry, store it in a clean dry place, preferably in a fabric-lined jewelry box with dividers to prevent pieces from scratching each other.


Wipe down and clean jewelry you wear frequently to maintain its sparkle. Using a damp cloth or toothbrush with warm water should do the trick.
It may seem like Independence Day is independence from your jewelry, but it also gives you one less thing to worry about as you're having fun in the sun. After the season is over, take your jewelry to your trusted jeweler for a professional cleaning and inspection.