Keep Your Jewelry Safe During Hurricane Sandy Clean-up
on

Oct 31, 2012 10:32 AM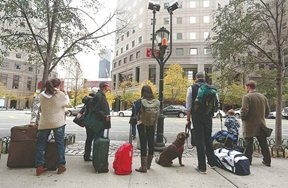 We hope that you and your families are staying safe after Hurricane Sandy.
We would like to share some helpful tips if you're taking shelter in a hotel or while traveling to help keep your jewelry safe if you have it with you:
Don't leave the jewelry in an unattended car or suitcase.
Put your jewelry in your carry-on bag, never in checked baggage.
Put jewelry in a bag that you personally carry into restaurants and to your hotel room.
Store your jewelry in the in-room safe when you're not wearing it.
Thank you for trusting Jewelers Mutual to protect your most-treasured jewelry items. We're standing by to help you in the aftermath of the hurricane.
If you need to make a claim on a damaged or missing jewelry item, you can submit a claim online or call us at 888-884-2424.