Matt & Linda: Our Second Happy Perfect Proposal Couple
on

Jan 5, 2015 2:41 PM
In The Perfect Proposal Contest, one lucky couple is awarded the opportunity to create their perfect proposal, from the ring all the way through the engagement party. After sharing their love story, participants choose one each of three rings, three proposal locations, and three charities (to which Jewelers Mutual provides a $1,000 donation).
After our debut in Chicago, the next stop was the Big Apple. Round two didn't disappoint!
The Winning Entry
Out of 137 hopeful newlyweds-to-be, the love story of Matt and Linda caught the judges' attention:
"I met her when we were 18 in college. She still had her braces, and I still had my baby fat. I knew that we were meant to be together. It didn't really make sense, and I didn't really know how I knew this, but it was a feeling. She wanted to be together, but I knew that I was too immature at the time. If we began dating, we would eventually break up ending the future I had envisioned. We waited patiently throughout the years, we graduated, and began our careers. At 24, at my best friend's wedding, I looked at her and realized I was ready. The stars aligned, the fog was lifted, and I realized we were finally ready. Soon after that we began dating. 2 years later, and we are still going strong, ready to start our lives together. She is the best woman I have ever met (she even waited for me to grow up!). It is time to start the engagement that seems to have been destined for us, and move onto the marriage that I envisioned all those years ago. I love her and she deserves everything."
When we notified Matt that his entry had been selected, he was over the moon.
He and Linda had already discussed getting engaged, so he shared the news with her right away, and they planned their special moment together.
Crafting Their Perfect Proposal
Through the entry process, the couple customized their proposal with the following choices:
Round Halo Diamond & Platinum Engagement Ring from Gem Platinum
1 round brilliant diamond (0.70 cts.) with 36 round brilliant diamonds (0.32 cts.)
Approximate retail value: $7,500
Venue: Top of The Empire State Building
Charity of choice: Make-A-Wish
Just like Jared from Chicago added his special touch with the cellist, Matt and Linda's parents arranged for the couple to arrive in style with a limousine.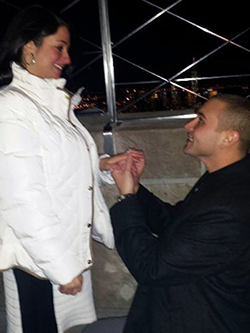 All the excitement leading up to the big day was almost too much for the love birds. A few days prior, Matt commented, "We are kind of emotional wrecks trying to concentrate at our jobs!"
The Big Moment
Although passing through building security took a bit longer than anticipated, the sun had set once the group reached the top of the Empire State Building, providing a beautiful, glistening view of the city.
As Matt pulled out a copy of his contest entry to read to Linda, a group of onlookers began to gather and snap photos and video.
The crowd erupted in applause as Matt got down on one knee, asking Linda to marry him, tears in her eyes.
See all the magic right here:
Party Time!
Linda's new engagement ring from Gem Platinum After returning to the ground floor, much more quickly than they had ascended, the couple's parents and a grandmother greeted the newly engaged couple and joined them in the limo, en route to their engagement party at Flute Bar & Lounge.
Much celebration ensued, including appetizers, dessert and a champagne toast by the couple and their parents, thanking family and friends for rearranging their schedules to join them.
Matt and Linda finished "the best day of their lives" by spending the night in beautiful NYC.
Proposal Gets Social
Of course, we had to share our excitement for the newly engaged couple on social media:
And, our Chicago winner, Whitney, congratulated the couple as well!
Just like that, another Perfect Proposal couple was born.
Matt and Linda haven't set a date yet, but are thinking of a summer 2016 wedding. "We need time to plan a wedding that holds up to the engagement!" said Matt. "Planning a wedding is going to be an out-of-control experience that we are so excited for."
Will you be our newest couple? Stay tuned for The Perfect Proposal, Round 3!
Know Matt and Linda? Just love their proposal story? Share your congratulations in the comments!