Protect Your Engagement Ring With Jewelry Insurance
on

Aug 25, 2011 1:33 PM
Your engagement ring likely holds greater sentimental value than anything you own. It's also the most beautiful piece of jewelry that you own, and the most expensive!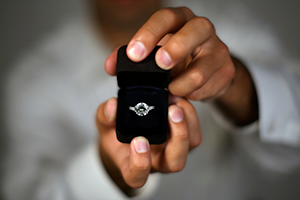 In fact, for most people, their engagement ring is one of the most valueable household assets, after the house and car.
That sparkling rock may have on a couple of occasions caused you sleepless nights. How could something so precious have created such tossing and turning? When said rock suddenly goes missing.
According to a survey conducted by Jewelers Mutual, 44 percent of married women either don't insure their engagement ring, or don't know for certain whether their engagement and wedding rings are insured.
Did you know that homeowners insurance may not be enough?
Many homeowners policies only cover up to $2,500 unless you purchase a rider. Also, such policies often don't include breakage, mysterious disappearance or partial loss. Plus, fire and theft coverage may be limited to $1,000 - most wedding rings are worth five times that amount!
One of the most common reasons people make an engagement or wedding ring claim is due to accidental loss or mysterious disappearance. There are literally thousands of ways to lose such a small item – leaving it in a restroom, dropping it down the garbage disposal, or accidently throwing it out with the garbage to name a few.
Unfortunately, it's often too late when people realize they're not properly insured.
If you don't protect your engagement ring with jewelry insurance, you may be afraid to even wear it. Jewelry is meant to be enjoyed!
Since the price of diamonds has been soaring, there's never been a more important time to get an appraisal. And that's the first step. Visit your trusted jeweler to get your ring appraised, and then apply for insurance.
Are you sure you have the right insurance?
If you answer "no" to any one of the following questions, you may want to re-evaluate your choice in current protection.
Is your piece covered for the entire value?


Can you get the same kind, quality and brand name as the original if you need a replacement?


Do you care about coverage beyond loss and theft, such as damage and mysterious disappearance?


Are you able to work with the jeweler of your choice for repair or replacement?


Is your jewelry covered when you travel anywhere in the world?
Learn more about protecting your jewelry.