Gold History, Jewelry and Care Tips
on

Oct 21, 2011 1:10 PM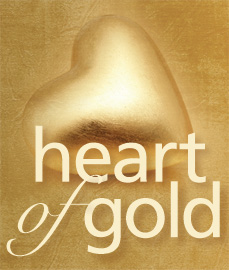 Who doesn't like gold? This year at Jewelers Mutual's Heart of Gold community presentation, David Peters, director of Education and Membership Services for Jewelers of America spoke all about gold history, the jewelry, the care tips ... the works.
Sure, we knew how nice our 14-karat gold hoop earrings looked with our brown cowl-neck sweater, but we also learned that gold is used in virtually every piece of complicated electronics, in arthritis medicine, heart surgery, and in winning the hearts of many all over the world.
All karats are not created equal
14-karat, 18-karat, 24-karat ... what does it mean?
The lower the karat level, the lower the level of purity. 10-karat gold is the lowest standard in the U.S. 24-karat gold is pure gold and may be too soft for jewelry, although it's good for stents in heart surgery since it's completely hypoallergenic.
According to David, the value of gold is based on the following criteria:
Metal content
Style and design
Quality of manufacture
Look for a trademark and quality mark on your jewelry before you buy!
The "gold-star" treatment
Gold is a long-lasting metal. To keep your jewelry looking like new, keep it away from hot tubs and harsh chemicals, store it in separate compartments to avoid scratches, and remove it when playing sports, doing yard work or house cleaning.
Don't forget to visit your jeweler periodically for inspections and cleanings. With the price of gold rising by leaps and bounds this year, it's also a good time to get your jewelry values updated to current replacement value.
To sell or not to sell
That is the question. David recommended that when selling gold, your best return is not through an envelope. Instead, sell your gold jewelry through a professional fine jeweler.